Tutoring
Tutória
Many SDSA teachers offer homework help and tutoring after school. If your student could use extra help in reading and/or language arts development (writing and communication), please take advantage of this service.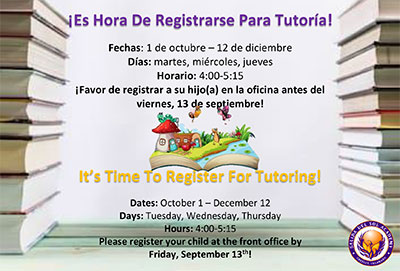 It's time to register for tutoring! Dates: October 1 to December 12
Days: Tuesday, Wednesday, and Thursday
Hours: 4:00–5:15 p.m.
Please register your child at the front office by Friday, September 13.
¡Es Hora De Registrarse Para Tutoría! Fechas: 1 de octubre–12 de diciembre
Días: martes, miércoles, jueves
Horario: 4:00–5:15 p.m.
Favor de registrar a su hijo(a) en la oficina antes del viernes, 13 de septiembre!