Support Salida del Sol
Apoyo a Salida del Sol
Without your generous support, Salida del Sol Academy could not exist. It takes a team of people with common goals to make a difference in our community and our future. Consider our future. Consider our children. Consider del Sol.
Sin su apoyo generoso, Salida del Sol Academy no podría existir. Se necesita un equipo de personas con objetivos comunes para hacer una diferencia en nuestra comunidad y nuestro futuro. Considere nuestro futuro. Considere nuestros hijos.
King Soopers
The Kroger Co. family of stores is committed to bringing hope and help to the local neighborhoods we call home. Our stores are on a mission to not just be a part of, but to help create a stronger community. We recognize that every community has unique causes that need support. Thank you for being such an important organization in our community.
We encourage you to ask your supporters to link their loyalty card to your organization. Community rewards is easy to use. The more your supporters shop with us, the more money your organization will earn!
We are committed to carefully protecting our customer's personal information. In order to meet their expectation of privacy, we have adopted a simple policy to never share a customer's personal information. Our privacy policy applies to community rewards participation as well. If you have any questions, please contact us via email or visit our website.
King Soopers
La familia de tiendas Kroger Co. se compromete a brindar esperanza y ayuda a los vecindarios locales que llamamos hogar. Nuestras tiendas tienen la misión no solo de formar parte, sino de ayudar a crear una comunidad más fuerte. Reconocemos que cada comunidad tiene causas únicas que necesitan apoyo. Gracias por ser una organización tan importante en nuestra comunidad.
Le recomendamos que solicite a sus seguidores que vinculen su tarjeta de descuento con su escuela. Community Rewards es fácil de usar. ¡Cuanto más compren sus seguidores con nosotros, más dinero ganará su escuela!
Estamos comprometidos a proteger cuidadosamente la información personal de nuestros clientes. Para cumplir con sus expectativas de privacidad, hemos adoptado una política simple para nunca compartir la información personal de un cliente. Nuestra política de privacidad también se aplica a la participación de Community Rewards. Si tiene alguna pregunta, contáctenos por correo electrónico o visite nuestro sitio web.
King Soopers
Help us raise money for SDSA while you shop and save! Simply register your King Sooper Card and make Salida del Sol your community rewards charity.
1. Log-in to your account on www.kingsoopers.com. (If you don't already have an account, pick up a club card at King Soopers and create one using the online instructions.)
2. Navigate to the "My Account" menu and select "Community Rewards."
3. Pick Salida del Sol Sol Academy as your charity.
4. Then go shopping! Each time you use your card, a portion of the proceeds go to SDSA.
Volunteer
At Salida del Sol Academy, we really are an educational team! From our student-directed conferences to our individualized academic plans, we know that the highest form of education happens when everyone gets involved. One way you can do that is to volunteer.
Ofrecerse de Voluntario
¡En Salida del Sol Academy somos un equipo educativo! Desde nuestras conferencias estudiantiles dirigidas a nuestros planes académicos individualizados, sabemos que la forma más elevada de la educación ocurre cuando cada uno se involucra. Una manera de hacerlo es ser voluntario.
Ways to Get Involved
Salida del Sol volunteers can serve as aides and tutors in the classrooms. They may also help out in the front office, in the library, in the cafeteria, and with special events at the school. If you're interested in becoming a part of our Salida del Sol community, please contact the main office today. Volunteer opportunities vary throughout the school year, so please check the website for updates or speak with the office staff.
Maneras de Involucrarse
Los voluntarios de la Academia Salida del Sol pueden trabajar en unos de las salones de clase como asistente. También los voluntarios pueden ayudar en la oficina, en la biblioteca, en la cafetería, o con los eventos de la escuela. Si le interesa ser parte de nuestro comunidad, contáctese con el personal de la oficina hoy. Las oportunidades de voluntarios varían durante el año. Por favor revise las actualizaciones en el sitio de web o hable con el personal de la oficina.
Watch D.O.G.S.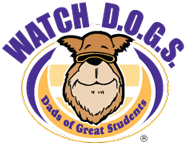 WATCH D.O.G.S. is a school-based, family and community engagement organization that empowers men to get involved in a child's education. These "Dads of Great Students" are positive role models who volunteer one day a year in their child's school. Come join the program at Salida del Sol!
Programa de WATCH D.O.G.S.
Programa de WATCH D.O.G.S. es una de las organizaciones de participación escolar, familiar y comunitaria más grandes y respetadas en la nación en este país. Desde la creación del programa que se formó en 1998, más de 6.450 escuelas en todo el país han lanzado un WATCH D.O.G.S. programa propio. Cada año escolar, cientos de miles de padres y figuras paternas tienen un impacto positivo en millones de niños ofreciéndose voluntariamente millones de horas en sus escuelas locales a través de este increíble programa único en su tipo.
Become a Volunteer
The safety of our students is our number one priority at Salida del Sol Academy. Before volunteering with us, all interested parties must fill out a volunteer application, meet briefly with our volunteer coordinator and/or the school's director, and complete a background check. Please refer to the section titled "Volunteer Documents" for all of the necessary paperwork.
Conviértase en Voluntario
La seguridad de los estudiantes es nuestra prioridad principal en la Academia Salida del Sol. Antes de ser voluntario con nosotros, se tiene que llenar un solicitud de voluntarios, reunirse con la directora o la coordinadora de voluntarios, y hacer una verificación de antecedentes. Por favor, se refiere a la sección de "Documentos de Voluntariado."
Padres Unidos
The primary mission of Padres Unidos is to engage parents in their student's education by offering them an opportunity to participate at Salida del Sol Academy. At our monthly meetings, parents can voice concerns and recommendations and ask questions about the operation of our school and instructional program. The meetings also act as a platform to provide a variety of educational and informational programs to our parent community. In this way, one can have a direct impact on their child's education. Our group also provides special activities throughout the year to engage involvement and boost school spirit.
Please join us on the second Tuesday of each month to talk about our school and enjoy refreshments with members of the administration! Please refer to the website or call the front office for scheduling information.
Padres Unidos
La misión principal de Padres Unidos es involucrar a los padres en la educación de su estudiante por ofrecer oportunidades para participar en la Academia Salida del Sol. En nuestras reuniones mensuales, los padres son capaces de expresar inquietudes, recomendaciones y preguntas sobre el funcionamiento de nuestra escuela y el programa instructivo. Las reuniones también actúan como una plataforma para que nuestros padres puedan tener un impacto directo en la educación de sus hijos. Nuestro grupo también ofrece actividades especiales durante todo el año para involucrar a nuestra comunidad y estimular el espíritu escolar.
Acompáñenos para hablar sobre nuestra escuela y disfrutar un cafecito con algunos miembros de la administración. Nos reunimos el segundo martes de cada mes, en la cafetería de la escuela. Por favor, consulte el sitio web o al personal de la oficina para actualizaciones del horario.
Amazon Smile
Step 1: In your internet browser go to smile.amazon.com and log in using your Amazon credentials.
Step 2: After signing in, you will be directed to a new page.
Step 3: Under the heading "Or pick your own charitable organization" enter "Salida del Sol Academy" then click "Search."
Step 4: From the list of charity options, select "Salida del Sol Academy" (located in Greeley, CA).
Step 5: You will be redirected to a new page. Check the box next to "Yes" and then click "Start Shopping."
Step 6: You will be redirected to Amazon's Home page that adds a disclaimer about how to add Amazon Smile to your toolbar, should you want to add a particular bookmark for it.
That's it! You are now signed up for Amazon Smile! Just be sure to visit smile.amazon.com every time you normally visit Amazon to make sure your eligible purchases are having a portion of the price donated to Salida del Sol Academy.